OK so this will be about all three wheelers. Anyone can post an image, any you've found, but make sure it's not been posted before. So review before your post. Specifically it's not about the image, but representing a vehicle. So just a couple of the best for each one.
This subject is about the vehicle, (and vehicle concepts), so let stay on that. I'll try and be good too. If the talk deviates, post a link to a new thread for that. But we want to keep this tight, making this a picture catalog. Including ones we don't know the source or name of it.
Then let's keep the talk to just identifying what it is, it's basic features and attributes. Even so this will be a long running topic.
If you want detailed talk about the vehicle, what we think about the design etc, link that out to a thread named for the vehicle, once we've correctly identified it.
I'll post everything I got. Let's work with one vehicle at a time, except initially for my personal designs. It will be more efficient for me to just blast those out. Many don't have an identity or name. Let me finish that before posting other vehicles.
For the windtunnel test models below, the left one is my 'Taddy' being compared against the 'California Commuter Car' by Doug Malewecki (spelling ?) Tested around 1981 at the Washington State University wind tunnel. oops correction,
(cd = coefficient of drag, google it)
Actuals, cd=0.20(min possible) on the left, cd=0.24 on the right in the first image. The prior numbers (now only shown for the green examples), is the minimums possible, not the actual.
The green image are the comparison of a single-passenger autocycle (built for high efficiency) to a standard 5 passenger sedan.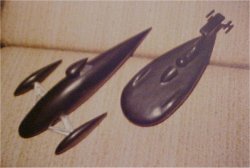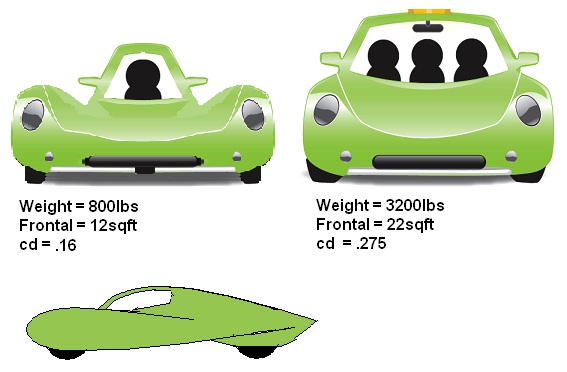 Per the request below, when I have the P5's cd, I'll add it. The P5 will likely compare to the sedan, as a guess, maybe as low as .22, or high as .28, but the total frontal area is much less than a standard sedan.
Last edited: