One thing I found interesting about the Vanderhall Blackjack, it's weight is quoted at 1500lbs. It's a 1.4L engine.
The Viking IV I worked on in 1980 was 1250lbs with a Subaru small displacement boxer, I think 1600cc. And it had a full body skin.
Why is the Vanderhall so comparably heavy? Hard to beat an aluminum sheet metal chassis, probably.
Another way that weight can be saved is combining composites with spaceframes as Lotus has done at times.
On behalf of ultimate weight savings I've been playing with that in a solo craft design. As usual, this is a total CAD exercise.
In this, a small displacement motorcycle engine, aluminum space frame, and rubber-blocks for suspension damping are put to use.
I estimate this entire craft could be less than 500lbs(226kg), although it would be easier to reach 600lbs(272kg)
It does implement a cross leaf spring for added anti-sway. With a 450cc or 650cc engine, NOT a very high top speed. But 85mph is plenty for common street/freeway driving around here.
Here's a snap image.
(link to CAD file for download)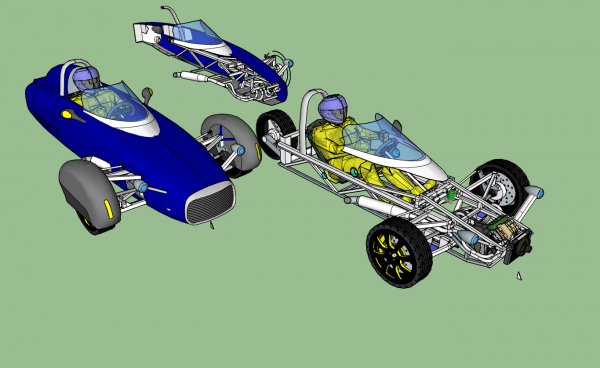 Last edited: